The War Scattergun is a powerful famed blunderbuss,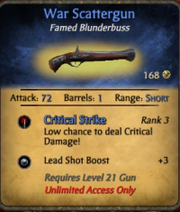 its one of the strongest blunderbuss there is, with Critical Strike and Lead Shot Boost.
Attack: 72
Abillites: Critcal Strick rank (3) and Lead Shot Boost (+3)
Level: 21
Resale: 168 Gold
Looting Tips
Edit
This blunderbuss can be edited anywhere, so try your luck at Darkheart. He drops lots of loot there so there is a higher chance.