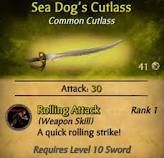 The Sea Dog's Cutlass is a well made sword that has a quick Rolling Attack. It is a Common Cutlass. A new pirate will make great use of this fine Cutlass, it has a Rolling Attack; This is a great tactic for catching up to a fleeing pirate in PvP; This is a weaker version of the Seven Seas Cutlass.
Attack: 30
Abillites: Rolling Attack (+1)
Level: 10 Sword
Resale Value: 41 Gold
Cost: Can only be found in loot.