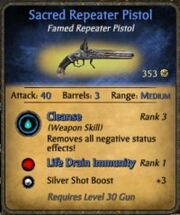 The Sacred Repeater Pistol is a brute famed repeater pistol with cleanse, Life Drain Immunity (Life Drain has no effect on the person weilding this gun) and Silver Shot boost. It is best to find it at the South Idol on Raven's Cove. Some have an opinon that this Sacred Pistol is a great PvP gun to use, most will agree while some not.
Ad blocker interference detected!
Wikia is a free-to-use site that makes money from advertising. We have a modified experience for viewers using ad blockers

Wikia is not accessible if you've made further modifications. Remove the custom ad blocker rule(s) and the page will load as expected.