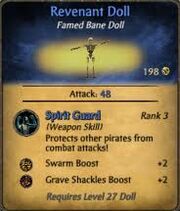 The Revenant Doll is a famed bane doll that can protect pirates from combat attacks. It has a handful of abilities and is the strongest of all dolls, in the game!
Attack: 48
Abillites: Spirit Guard (Rank 3), Swarm (+2), Grave Shackles (+2)
Level: Voodoo Doll 27
Resale Value: 198 Gold
Cost: Can only be found in loot.