The Razortooth Sword is an extremely powerful Famed Cursed Broadsword. This deadly weapon has a unique Snare Immunity Skill, making a Pirate immune to Grave Shackles and Jolly Roger's Grave Bind.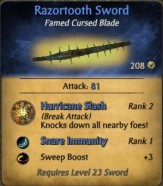 Attack: 81
Abilities: Hurricane Slash (Rank 2), Snare Immunity (Rank 1), Sweep Boost (+3)
Level: 23
Resale Value: 208 Gold
Cost: Can only be found in Loot on Raven's Cove or Isla Tormenta.