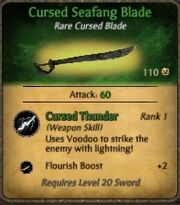 The cursed Sea Fang was the first cursed blade; This blade was released at the time Raven Cove's came out live. The only way to unlock it was by using the code, Seafang; You can't find this in loot, sorry.
Abilities: Cused Thunder (1), Flourish Boost (+2)
Level required: Sword 20
Resale value: 110 Gold
Cost: You must enter the code "Seafang" before expiration.