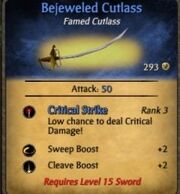 The
Bejeweled Cutlass is a powerful Famed Cutlass, this Cutlass grants the user a powerful Critical Strike ability and Sweep Boost and Cleave Boost skills. It is a strong weapon, despite its level; you can find this anywhere since it's not cursed.
Attack: 50
Abilities: Critical Strike (3), Sweep (+2), Cleave (+2)
Level: 15 Sword
Resale Value: 293 Gold
Cost: Can only by found in loot.
Member of the 'Bejeweled Series'

Looting TIps
Edit
The Bejeweled Cutlass can be found on any island, it would be a better idea for sea or at Kingshead or even Darkhart. Any island besides Isla Tormenta and Raven's Cove make it easier to loot due to the cancellation of looting a cursed on this island. Now go fight something!