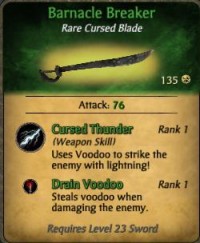 The Barnacle Breaker is a Rare Cursed Broadsword. It is a powerful Blade for being Rare. Not too common. Thats why its rare ;)
Attack: 76
Abilities: Cursed Thunder Rank 1, Drain Voodoo Rank 1
Requires Level: 23 Sword
Cost: Can only be found in loot on Isla Tormenta or Raven's Cove.
Looting Tips
Edit
Since this is a Cursed blade you should loot this at the mines, it's pretty common there.