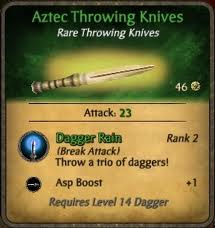 The 'Aztec Knives' are a pair of rare throwing knives, they have an attack of 23 and are a good weapon for an experienced dagger user. You're in luck because you can loot these at Foulberto Smasho.
Attack: 23
Abilites: Dagger Rain (2), Asp Boost (1)
Cost: Can only be found in loot.
Resale: 46G
Could be found at Foulberto Smasho.