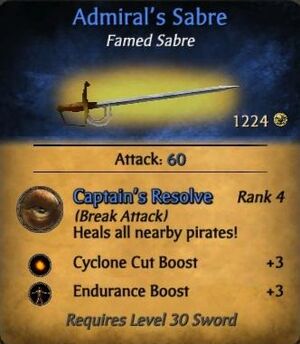 The Admiral's Sabre is a powerful famed sabre, that has Captain's Resolve that heals pirates nearbly with Cyclone Cut Boost and Endurance Boost. Only a master swordman has the ability use this sword.
Attack: 84
Captain's Resolve: Rank 4
Cyclone: Rank 3
Endurance: Rank 3
Level: sword 30 (master)
Resale 1224 Gold
Cost: Only can by found in loot at sea.